What people are saying

Thank you Sandra. If it were not for the White Dove Society I wouldn't have known where to start our business! Although Rod has the expertese when it comes to training and breeding homing birds, the business side of things was new to us both - and we took a lot of guidance and knowledge from IWDS that has helped us get fully booked next summer with weddings! Lovey Dovey UK
Can I thank you for all the contacts that have received through your website. I have picked up a lot of contacts and some good business. Celebration Doves, Edinburgh
YOUR SERVICE IS CERTAINLY APPRECIATED BY US ALL! Frank and Theresa Brautigam, www.ceremonialdovereleases.com
We love the way you added our pictures to your listing of our site and how fast you respond to our change requests. Thank you so much for helping us advertise our site in such a professional manner. Jon's Doves in Flight
It was worth the membership price just to read the good articles they've produced. Thanks, Steve
Wonderful job on the news letter. I really enjoyed it. Will you be taking stories from members in the future? Keep it up!! R. H.
Thank you for all the hard work that has gone into the IWDS and the Journal. It is a benefit to all of us White Dove Professionals. Well worth the small membership fee!!! I encourage anyone that is serious about dove releases to join. CV
Beautiful website. Easy to find what I needed, which was a dove release for my daughter's wedding this June. Thank you. I had searched the Internet but could not find anyone until I came across this website. Sasha B.
What a wonderful resource! We are in Australia and this organization is very welcome! B.B.
Just wanted to let you know that the White Dove Society web site is working all the way here in Kona. I just got my first (via White Dove Society web site) request for a dove release from a Rev. Jen here in Kona who told me she didn't know where to look for white doves so she went on the internet and found me listed with the White Dove Society. Mahalo (Thank You) for all your help. Aloha, J. S.
Thank you so much! The listing looks great. We are getting lots of bookings and we think most is coming from your site. Thank you again. ~Jon & Shirley, Jon's Doves in Flight
Howdy Howdy, I liked what you did. So now we just wait and see. I saw that I got over 100 hits and out of that one call so hopefully the releases will help. ~ Brenda, BJ's White Doves
I was just glad to help you out because I'm so proud of my website. You did such a great job that I would gladly refer you to anyone. ~Warren, Calgary White Doves


Special thanks to member Sheena McCorquodale from Silver Wings.ca for designing our great new Logo

Please send us your comments and thoughts
about the organization and website.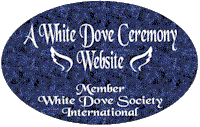 Title: Testimonials-Society  
Description:  White Dove Ceremony and White Dove Society International provides white dove release professionals with information and education, plus a world wide directory of their services. White Doves 101 helps you start a white dove business! Poems and reading White Dove Ceremony and White Dove Society International provides white dove release professionals with information and education, plus a world wide directory of their services. White Doves 101 helps you start a white dove business! Poems and reading
Keywords: white doves, how to start a release business, poems, readings, whitedoves 101, wedding, funeral doves, White Dove Society, International White Dove Society Testimonials-Society   white doves, how to start a release business, poems, readings, whitedoves 101, wedding, funeral doves, White Dove Society, International White Dove Society
Powered by: Beyond the Sidewalks